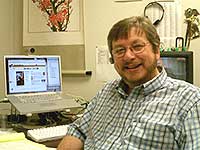 It always makes us feel good to know that one of our former colleagues has gotten some special recognition. Former Missourinet reporter Mike McKean has been given a prestigious teaching award at the University of Missouri School of Journalism, the William T. Kemper Fellowship for Teaching Excellence. The fellowship carries a $10,000 award. Only five of them are awarded each year so this is a big deal.
Mike got his first job with the Missourinet right out of college back in the 70s. He left us later to work in radio in Houston, Texas, where he picked up a master's degree in political science at Rice University and then, about 25 years ago, came back to Missouri to teach at the J-School. He has become a leader in preparing future journalists for the rapidly-changing world they will move into when they leave the school.
About six years ago he created the convergence journalism sequence in which students learn skills in radio, television, newspapers, and website reporting so they can move comfortably and competently among the growing number of platforms that distribute our reporting work. More recently he's been put in charge of an exciting new program, the Futures Lab, at the Reynolds Journalism Institute that is part of the journalism school. The program provides real-world, high-level experiences for students to create applications for some of the leading corporations in communications. They've worked, for example, with Google and Apple.
Mike was a terrific reporter for the Missourinet all those years ago and retains that passion for excellent journalism in face of rapid technological shifts. His ability to communicate that new technology enhances good journalism is vital in making sure quality reporting serves the future public, no matter how the public accesses it.
Mike still has a lot of years of teaching left in him and journalism is glad he does.
Congratulations, Mike!